April 30, 2015 - My wife and I rent a condominium. We cannot install solar panels as a result. And when you consider our apartment uses electric heating, and the bills we have received this winter, I would love to see solar panels sprouting on the property.
Of course we are not alone in not being able to install rooftop solar. There are lots of other renters here in Toronto. There are lots of people living in apartments carved from residential homes. And there are lots of apartments where the roofs have an inadequate amount of space to put a sufficient number of solar panels to make a difference. In fact, inadequate roof space is the other primary reason why solar is not as pervasive today in urban locations as it could be.
What are minimum requirements for installing solar panels? The rule of thumb for single family homes is a contiguous area amounting to a total volume of 10 square meters (107 square feet) with an appropriate slope predominantly facing to the west or southwest. The rule of thumb for buildings is an area large enough to install solar panels capable of generating 20% of the electricity demand of those living or working there.
So how to get around these limitations? Create community shared solar (CSS) allowing multiple energy consumers to share electricity coming from one or more solar arrays. Instead of coverage being limited to a subset of homes and buildings solar could be available to all. The state of Massachusetts is one of the first to promote CSS providing incentives for investment in solar on rooftops and land supported by multiple participants who would then benefit from net metering credits. This would make CSS available to those who could not build solar panels on their own sites. The Massachusetts initiative provides funds for municipalities to research the viability of CSS within their jurisdictions.
New York State has launched a similar initiative introducing the Shared Clean Energy Bill in the summer of 2014 allowing renters, owners of unsuitable roofs, schools and business to go solar through utility bill credits.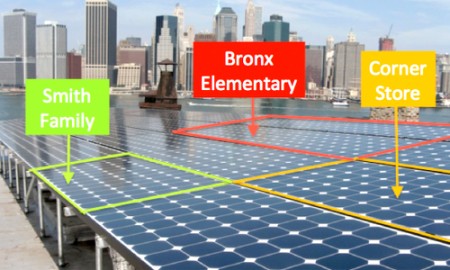 Nine other states have joined Massachusetts and New York. Their actions dovetail well with a new report entitled Shared Solar: Current Landscape, Market Potential and the Impact of Federal Securities Regulation, prepared by National Renewable Energy Laboratory (NREL), affiliated with the United States Department of Energy. It describes the rationale for CSS and the methodology for implementing it across the entire country. The report argues that what is needed is for all governments from municipal, county, state and federal to issue policy and create a regulatory environment to encourage CSS coverage for 100% of homes and businesses. The report concludes by doing this "shared solar could represent 32% - 49% of the distributed PV (photo voltaic) market in 2020."
One of the missing links in wider usage of solar is the reluctance of energy companies to get involved. Many are in a war with home owners installing rooftop solar which I wrote about back in March of this year. But shared solar could end that war. And if favorable tax incentives were put in place utilities would grab the opportunity to invest considering that those using coal-fired power plants today are under the gun to close them down within a decade.
A shared solar strategy would overcome deployment, technical and business barriers and ensure a faster transition to a low-carbon economy. Municipal land opened up to become solar gardens, school rooftops, apartment and condominium buildings, factories, and residential single and multiple-family homes could be integrated to generate electricity for all.
Add the implementation of large-scale battery storage and solar and other renewables could begin to contribute up to 11 Gigawatts of reliable power by 2020. The report estimates that investing in this infrastructure would cost between $8.2 and 16.3 billion U.S.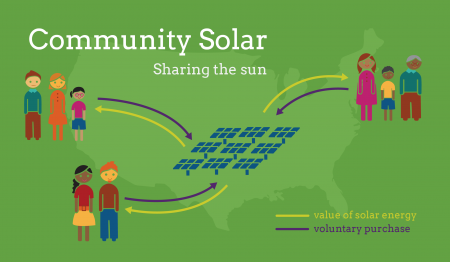 출처 : http://www.wfs.org/blogs/len-rosen/rise-community-solar